The American with Disabilities Act (ADA) became law in July of 1990. Enacted by President George H. Bush, the intention of the law is to prohibit discrimination against people with disabilities and to guarantee that they be afforded the same opportunities as everyone else to be able to participate in the mainstream of day to day living.
In 2010, the U.S. Department of Justice issued an "Advanced Notice of Proposed Rulemaking" which stated their intention to amend the language of Title III of the ADA to include website accessibility. What does this mean for website developers?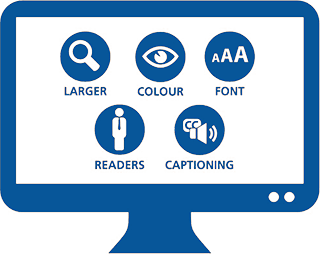 Web content should be accessible to the blind, deaf, or those who must navigate by voice, screen readers, or other types of assistive technology. Under Title I of the ADA, any business with at least 15 full-time employees and that operates for 20 or more weeks every year is covered by the law. Under Title III of the ADA, if your business falls under the category of "public accommodation," you're required to comply. This applies to digital accommodations as well as physical ones.
And, while there are no clear regulations that define website accessibility, if your business falls under ADA Title I or Title III, you're required to develop a website that provides "reasonable accessibility" to people who have disabilities. Failure to do so could open up your business to lawsuits, financial liabilities and, ultimately, could damage the reputation of your brand.
So, if the federal government hasn't supplied a clear definition of how to build an ADA-compliant website for commercial entities, what can you do to provide an accessible website that accommodate persons with disabilities and not run afoul of the ADA?
Consider the regulations that govern the websites of federal agencies as well as some of the legal decisions that have been rendered to date on website accessibility. In addition, there are some general ways that you can address issues of accessibility with respect to your website content:
Create alt tags for all images, videos, and audio files
Create text transcripts for video and audio content
Identify the site's language in header code
Offer alternatives and suggestions when users run into input errors
Create a consistent, organized layout
Reading the 2010 ADA requirements should be one of the first things you do, but it may also be to your advantage to consult with a lawyer that specializes in disability law to ensure that you're in compliance with the law.
Even though there is no hard and fast regulatory guidance with respect to website compliance for commercial entities, by making a sincere effort to make your website "reasonably accessible," you may be able to avoid any potential lawsuits. And you'll be ahead of the game if and when regulatory guidelines are established.