Additional website samples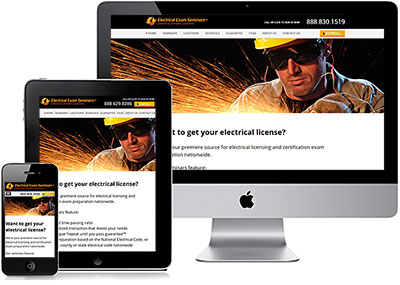 Electrical Exam Seminars
Description: Foremost training company for electricians to pass their certification exams.
Objective: Redesign the current website to reflect today's look, and streamline the presentation of the content.
Results: The site's appeal and user-friendly navigation is demonstrated by the growing traffic and amount of user page views.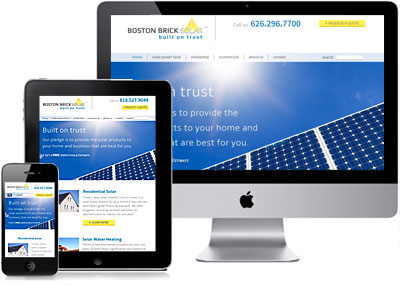 Boston Brick Solar
Description: Long-time trusted contractor launches a solar power division.
Objective: Design the website to combine the modern image of solar power with the company's sterling reputation.
Results: The company is already using the site to communicate their message to customers all around the Los Angeles area.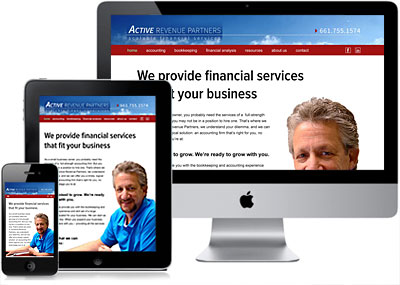 Active Revenue Partners
Description: Scalable accounting and bookkeeping company with superb customer service.
Objective: Build a site that presents how personable yet professional the firm is.
Results: The site clearly shows how warm the people are, and is simple to update on a regular basis.

"
Working with you was definitely a good choice, and it has more than repaid my investment.
"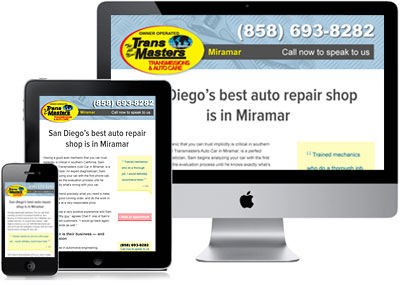 Transmasters
Description: A series of Landing Pages to tie-in with their PPC Campaign.
Objective: Create pages that provide clear information while converting viewers to customers.
Results: Combined with the Adwords program, these pages have helped to increase call volume and customer acquisition.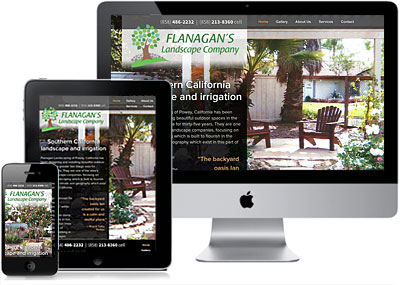 Flanagan Landscape Design
Description: Landscape and irrigation company in San Diego, CA.
Objective: Create an online presence that would properly showcase their work.
Results: The site, driven by full-screen images on every page in every format, provides the impact needed for this industry.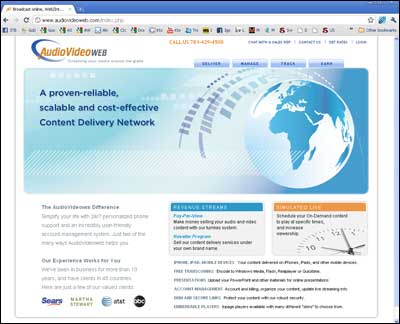 AudioVideoweb.com
Description: Media streaming company that offers many services and has quite a number of high profile clients.
Objective: Simplify and focus the marketing, highlight the testimonials, and give the company a professional yet inviting look.
Results: All current clients gave the design high marks, and acquisition of new customers increased as well.

"
He knows his stuff. He can make your business profitable!
"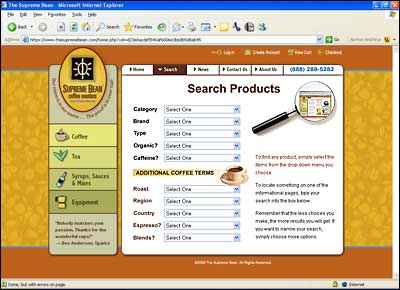 Supreme Bean
Description: Wholesaler and Retailer of fine coffees and teas.
Objective: Enable all clients to purchase products online, and make the site not only attractive but manageable by company staffers.
Results: Sophisticated search, purchase, and account technology gave the company great flexibility in creating multiple pricing structures.

My Favorite Stories
I sat with
John McVie
(
Fleetwood Mac
) on his boat and we talked for hours.
Bonnie Raitt
kicked me out of a photo shoot, then later apologized profusely — when she realized that not only was it my photo shoot, but that I was hand-delivering a custom-made guitar to her! She's extremely charming when she turns it on.
One evening in January, I spent all night at the shoot for
Garth Brooks
' video, The Thunder Rolls. Garth was extremely nice, and a prankster. When his two guitar players and I showed up, he was there wearing a wig, and pretended to be his own lawyer. Actually had his bandmates fooled for a few minutes!
Bryan Adams
was so busy it was hard to fit the interview into his schedule. But he was nice enough to call me on Thanksgiving, at my mother's house. My sister begged me to let her answer the phone so she could say she had spoken to Bryan Adams!
At a convention, I was taking
Richie Sambora
(
Bon Jovi
) to a meeting when he asked me if we could stop at my hotel and order room service. "But we won't make the meeting on time!" I told him. "That's alright," he replied, "I'm always late for something."
As he couldn't type very quickly, I agreed to do it for
Robin Trower
in the online chat session I held for him. One of my boyhood guitar heroes, and he's sitting next to me in my office, answering questions from all over the world, and thanking me for providing "biscuits" (cookies)!
During my conversation with
Buddy Guy
, I asked him (as I often did to warm people up) how he got started. I guess he thought I meant "in life," because he answered: "I was a black sharecroppers son," one of the memorable lines in Steve Martin's classic movie,
The Jerk
! It took me a while to realize that Buddy was being completely serious . . .
Some of the Other Artists I Interviewed:
The Black Crowes
Ritchie Blackmore (Deep Purple)
Ricky Skaggs
TNT
Los Lobos
Dweezil Zappa
Adrian Belew (King Crimson, Talking Heads)
Pete Anderson (Dwight Yoakam)
Waylon Jennings
Travis Tritt
Frank Bello (Anthrax)
Dave Murray (Iron Maiden)
Stu Hamm (Joe Satriani)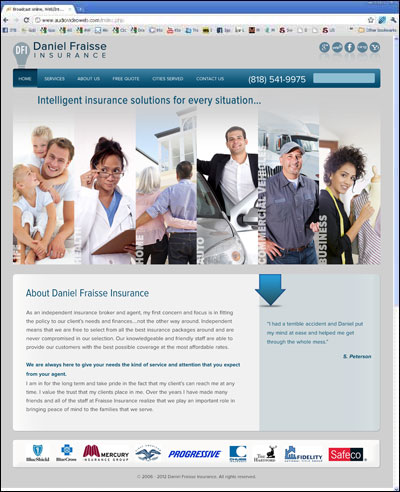 Fraisse Insurance
Description: Full-line insurance agent, offering multiple types of products to a wide variety of customers
Objective: Update the company's image, giving them a warm yet professional look, and highlighting all the types of insurance they write.

Liz Paris
Description: High end jewelry designer, launching her company after years of building other fashion-related businesses.
Objective: Produce interest and excitement in the launch of her line, updating the site as different events happen.

Best Of Times
Description: Quality patio bar and home entertainment systems for inside and outside use, branded with a number of NFL and NCAA team logos, as well as NASCAR drivers and general themes.
Objective: Create an extremely flexible site that makes it easy to react to the company's dynamic marketing program, as well as user-friendly for the customers.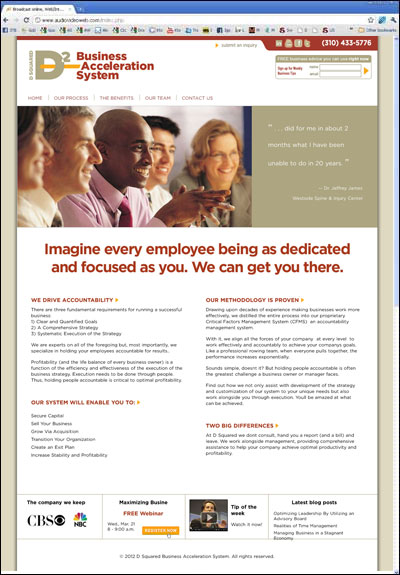 D2 Business Acceleration System
Description: Consulting company that works with business to optimize their employee performance, and ultimately improve their bottom line.
Objective: Communicate a complex process while making the site inviting and user-friendly.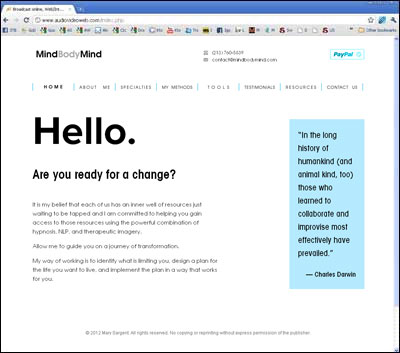 Mind Body Mind
Description: Hypnotherapist and NLP Master Practitioner who uses her techniques in a variety of environments, including the prison system.
Objective: Provide a bold, practical image that underscores her success in this poorly understood field.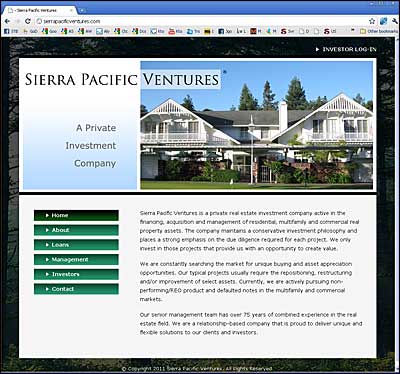 Sierra Pacific Ventures
Description: Private real estate investment company active in the financing, acquisition and management of residential, multifamily and commercial real property assets.
Objective: Create a professional looking website to reflect the company's service.
Results: New site, which will now allow the company to have a web presence.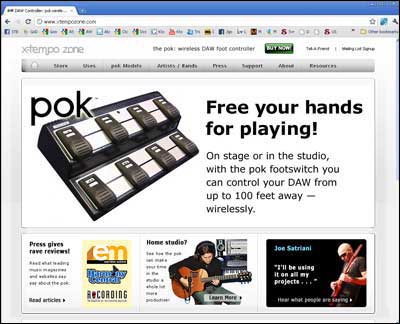 XTempo Zone
Description: Manufacturer of a unique and specialized foot pedal for musicians and producers.
Objective: Instantly highlight the value of the product, and maximize the power of their vast array of well-known endorsees.
Results: Not only was the site more appealing, but it also presented just as much information in a much more accessible format.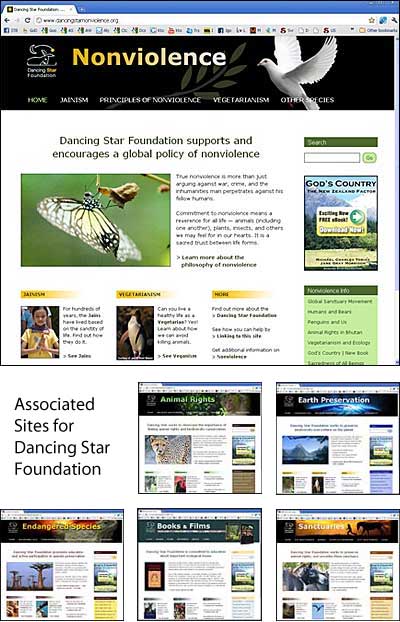 Dancing Star Foundation
Description: Charitable foundation that supports a number of causes, including biodiversity, animal rights, and nonviolence.
Objective: Showcase the broad variety of areas in which the foundation does such important work.
Results: A series of sites that maintained a common graphic thread, while highlighting and branding each area.