What is content? Several elements can comprise the content of your site, including photographs, forms, charts, videos, slideshows, calendars, specs, and more. But the most critical part of your site — by far — is plain, simple text. Words on a page.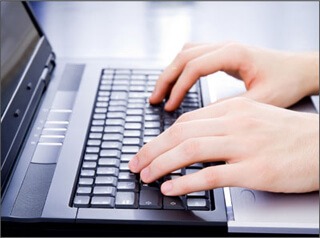 Sounds pretty straightforward, doesn't it? After all, every one of us speaks the language. And we all know our own fields. But you'd be surprised at how often the critical factor of text is either poorly done or vastly lacking on websites.
Moreover, it's not just being able to write, or even to write well that creates good copy. It is being able to write well, in the relevant style, incorporating what search engines are looking for while still appealing to and motivating human readers. If that sounds a little like walking a tightrope, it is!

Effective writing is one of our core strengths
This is where we come in. The president, Michael Caroff, has been writing professionally, from newsletters and magazines to blogs and websites, for more than 25 years. And our stellar team has decades of combined experience in the writing field. So we know copy.
But it goes beyond just cleanly-written sentences. We know how to balance the two target audiences of search engines and customers. Driven by keyword research and a keen awareness of our clients' goals, we can create copy for you that succeeds in every way.

We keep the content of your site fresh
Whether you need blog posts or articles, spec sheets or landing pages, we can provide a steady flow of new content going onto your site. And that's important. Very important. Not only will it keep your customers — and potential customers — coming back to your site to see new material, but it is also the main criteria Google uses to judge the worth of a website.
By the way, did you know the ideal length for an article? About 450 words. Short enough for the average reader not to be put off, and just about ideal for Google. (Search engines will only "index" the first 500 words on a page, so anything more is "invisible" to them.)

What kind of copy do you need?
Contrary to popular belief, you don't have to be an expert in a field to write effectively for that subject. You need to be a good researcher, and know and where to look for information. The rest is the skill of presenting it in the right manner.
We've written about medical issues, environmental science, landscaping, songwriting and musicians, films, party planning, law, fitness and exercise, insurance, food and dining, finance, and just about any subject you can think of. If we haven't covered it yet, we will!
Request a
quote
Request a
quote
So let us show you how we can motivate your customers more effectively with words. You'll wonder why you waited so long.
Request a
quote