We published an article over a year ago titled "30 Days Without PPC: The Negative Effect of Pausing Google Ad Campaigns" showing the impact that pausing all Google Ad campaigns had on a client's website as a whole. We're happy to say that this client is once again working with us for both SEO and PPC services on their website, and that performance is better than it's ever been — but that isn't the point of this article.
We're here to give another look into what happens when a client pauses their Google Ad campaigns. This time the client took 60 days off of running Google Ads before coming back to renew services after seeing the impact it had across the site. Here's what we saw:
The Stats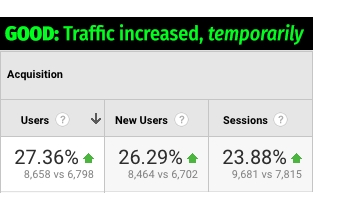 User Acquisition: Total site traffic actually increased after pausing Google Ad campaigns. This was a result of our previous SEO work, led by Organic Search which grew by 31%.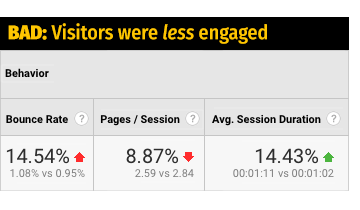 User Behavior: Here we start to see a potential issue. Google Ads was driving the strongest user behavior metrics on the site, and without that traffic channel, 2 of the 3 KPIs (Keyword Performance Indicators) here saw a notable decrease.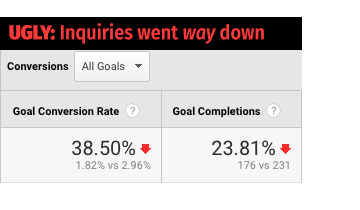 Conversions: In the grouping that matters most, Conversions, goal conversion rates and completions both fell during the 60 days that campaigns were paused.
Goal completions decreased from all channels as a result of not running targeted paid search ads during this period. The higher quality clicks that they were receiving from Google Ads traffic helped to drive conversions across all channels
The Lesson
Paid search ads impact all traffic channels in Google Analytics. A good Google Ads campaign will drive high quality, targeted traffic that may not convert on the first visit, but will come back to convert via other channels such as Organic and Direct. The second lesson? Think carefully before pausing Google Ads campaigns.
Don't let this happen to you!